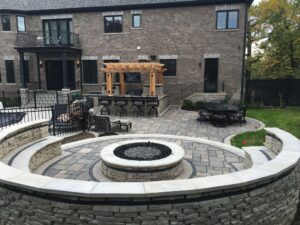 Background:
Tentinger Landscapes had previously installed an elaborate stone staircase, dry creek drainage system, graded the site, and installed all foundation plantings. The following year, our team was approached to design an extensive backyard hardscape which included a large patio and an outdoor kitchen with a multitude of amenities.
Challenge:
Local code did not allow for additional impermeable space, meaning the patio and kitchen was initially restricted to a very small size. Since the large house, driveway, pool, and existing stone pathways counted against permissible impermeable space, an innovative solution was needed.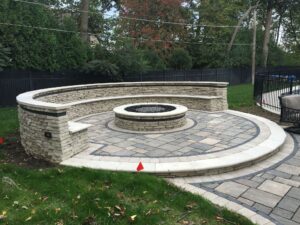 Solution:
Tentinger Landscapes implemented a permeable patio option, thereby making the proposed 1000 square foot hardscape possible. Permeable pavers allow water to flow through the joints and our team was able to deliver a fabulous space to our client.
Outcome:
In addition to a large patio, this site is complete with a massive firepit, seating bench, and two seating areas. Additionally, the outdoor kitchen was completely custom-fabricated in house, including a pizza oven, charcoal grill, natural gas grill, two refrigerators, a TV, a sink, all of which is capped with a custom pergola. Additionally, this outdoor kitchen includes a custom constructed, charcoal-fueled Brazilian BBQ, the only one in Illinois!
"There is no challenge too big or too small for our team."
Signup for Our Newsletter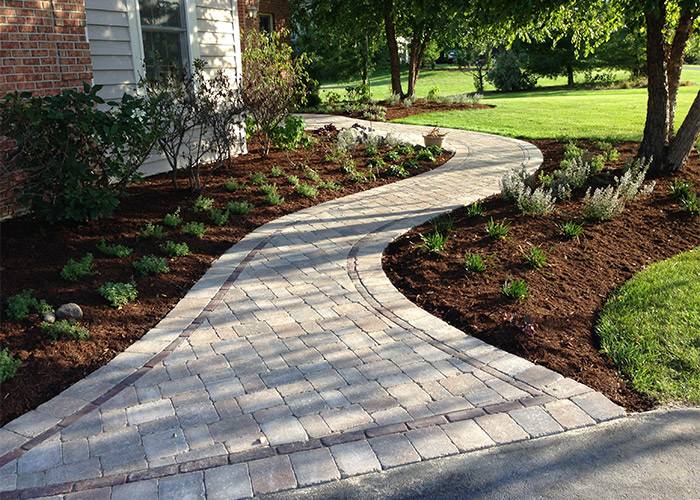 Why use Tentinger Landscapes?
Questions? Give us a call!
Contact our team to see if Tentinger Landscapes is the right fit for your home landscaping project.