Background:
Tentinger
Landscapes had been providing routine maintenance and landscaping needs for the owners of this regal manor in Wayne, Illinois, over the course of several years. Through consistent efforts and high-quality results, Tentinger established a solid relationship with the owners. This strong professional relationship led the customer to approach the Tentinger team of landscaping professionals about implementing a much larger, hardscape project.
Challenge:
  The front stoop and steps of the home were decaying and had been improperly repaired by another company. Due to this incorrect repair, it was neither possible nor cost-effective to use the existing red clay pavers. Additionally, the red clay had disintegrated over time, leading the once grand walkway to become unsafe. Frustrated, the client turned to Tentinger Landscapes for expert advice.
Solution:
The Tentinger team rose to the challenge and created an innovative solution that beautifully incorporated the salvageable parts with new, more durable elements. While unable to fix all the destroyed red clay, The Tentinger team was able to preserve the stoop sides, which remained as the original clay. Tentinger chose a material that contrasted the red clay vertical elements – namely, bluestone. But the Tentinger design vision was much more expansive than this – and we ultimately worked with the customer to renovate the entire courtyard, even turning a fountain into an elegant planter home for wildflowers. We pruned back the elegant yew bushes and lush shrubbery, and incorporated a multi-level hardscape of rustic stone. Finally, we scattered hydrangeas and hostas across the front facade, which intermingle with native trees in what can only be called a pastoral paradise.
Outcome:
The dramatic hardscape that Tentinger Landscapes created for this regal manor enhances the opulent beauty of the home. Tentinger Landscapes enriched their client's lives by fulfilling their need for a new stoop and steps that perfectly complement the home.
"There is no challenge too big or too small for our team."
Signup for Our Newsletter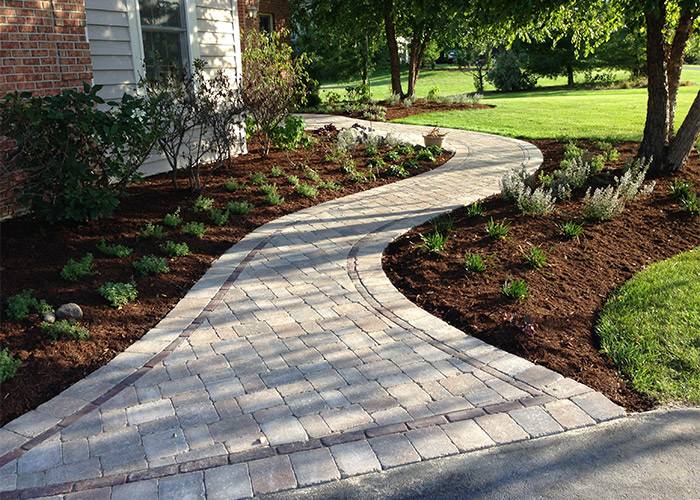 Why use Tentinger Landscapes?
Questions? Give us a call!
Contact our team to see if Tentinger Landscapes is the right fit for your home landscaping project.