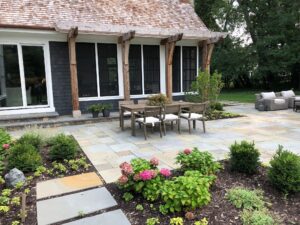 Background: A prominent Geneva builder was constructing a Hamptons style residence which was to be one of the most upscale and phenomenal homes in the City of Geneva. Invited by the builder, Tentinger Landscapes developed a design that perfectly complimented the fantastic home. The homeowners loved the plan and Tentinger began building the hardscape and installing the landscape.
Challenge:
The overarching challenge on this project was accurately executing the design theme through choices of landscape and hardscape materials. Selecting and implementing plant material that mimicked the style of an East Coast Hamptons home was not a simple task. Soil, climate, and growing seasons vary from the East Coast to this Geneva (midwestern) site. Additionally, patio, wall, and driveway stone materials needed to be carefully selected to achieve the design aesthetic.
Solution:
Precedent images were selected by our designer and presented to the clients, who felt that our choices perfectly matched the vision for their new home. Pulling from our thorough knowledge of plant material, our designer was able to select plants that not only achieved the design theme, but thrived on this property. Granite cobblestones, used on the driveway and stoops, aligned perfectly with the desired aesthetic. Numerous bluestone paver patios, stoops, and a rustic bluestone flagstone firepit compliment the home while serving as great spaces for outdoor enjoyment.
Outcome:
Approaching this project after much research and a keen attention to detail resulted in an exquisite landscape that is perfectly paired with the house. Our clients are ecstatic about the quality of materials and workmanship. Our careful selection of plant material provides year-round interest and endless summer flowers. Patios and stoops provide area for enjoyment or respite, and the spaces have been designed and built with timeless appeal.
"There is no challenge too big or too small for our team."
Signup for Our Newsletter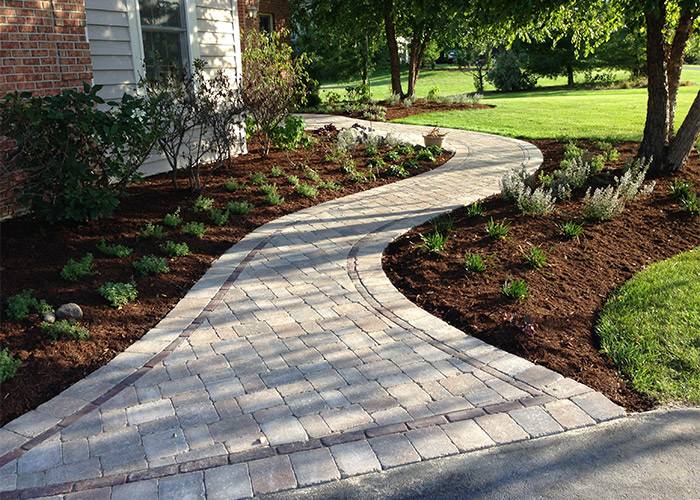 Why use Tentinger Landscapes?
Questions? Give us a call!
Contact our team to see if Tentinger Landscapes is the right fit for your home landscaping project.